TrendForce Announces the Global Ranking of Branded SSD Module Makers for 2017; Kingston, ADATA, and Tigo Took Top 3 Positions
DRAMeXchange, a division of TrendForce, announces the global ranking of SSD module makers (NAND Flash manufacturers excluded) for 2017 based on the shipments of their own-branded SSD products in the channel market. Kingston, ADATA, and Tigo took the top three positions in the ranking, with market shares of 23%, 8%, and 7% respectively.
According to DRAMeXchange, the global shipments of SSD products in the channel market recorded a total of 55 million units in 2017, which represented a decrease of 3-4% compared with 2016 shipments. The total annual SSD shipments from all branded NAND Flash manufacturers (including Samsung, Toshiba, WDC, Micron, SK Hynix, Intel and so on) fell by nearly 10% YoY in 2017, whereas the total annual SSD shipments from all memory module makers grew by 2-3% YoY for the same year. Branded NAND Flash manufacturers jointly accounted for 40% of the global SSD shipments for 2017, while the other 60% was contributed by memory module makers.
The changing landscape in the SSD market is due to the undersupply of NAND Flash in 1H17, which was not eased until 2H17. Faced with the tight supply, the NAND Flash manufacturers made adjustments to their SSD product mixes and allocated more capacity to PC OEM and Server/Data Center OEM sectors, where the gross margins are higher.
In terms of the 2017 raking, Kingston secured the first place with a remarkable market share of 23%. As one of the top suppliers of flash drives and memory cards, Kingston manages to retain its advantages in the SSD sector. As for the other nine SSD module makers in the top 10 ranking, their shares were very close to each other, which indicated that the ranking may change significantly from time to time. The top 10 SSD module makers in the ranking accounted for 67% of the total SSD shipment worldwide.
ADATA Technology took the second place as it managed to expand its market share by actively exploring the potential markets other than Europe, the United States, and China. In addition, ADATA has increased the retail prices of its products together with the rising costs of NAND Flash.
Tigo's SSD business mainly focuses on the fast-growing Chinese market, where the company deploys comprehensive product lines to expand its share and to build the brand image. Therefore, Tigo managed to take third place in the ranking despite the rising costs and undersupply of NAND Flash.
Taiwan-based manufacturers attach importance to product mix and profitability, while Chinese manufacturers focus on expanding market share and gaining popularity
Positions in the ranking from the fourth to the tenth place were taken by manufacturers from China and Taiwan. Specifically, Transcend Information and Apacer Technology put the most focus on the Industrial SSD market with high profitability and stable orders, while Lite-On Technology has shifted its business to Enterprise SSD market to make full use of its advantages. All the three companies adopted relatively conservative sales strategies in the channel market in 2017, and took profitability as the priority in sales.
In comparison, Chinese companies tend to be more aggressive. Teclast, Galaxy, Colorful, and Sunspeed retained their advantages in the gaming sector and continued to explore the channel market in China. In addition, they have outsourced SSD assembly to reduce the production costs. With the price decline and sufficient supply of NAND Flash in 2018, these Chinese manufacturers will have a chance to improve their rankings.
It should be noted that BIWIN, the leading module maker in China, was not in the top 10 ranking because it puts more focuses on the OEM and industrial SSD sectors rather than the channel market. Longsys was not included in this ranking either, because its business is mainly OEM orders from branded Chinese memory companies, which does not meet the criteria of this ranking. Nevertheless, its OEM shipments are comparable to the top 10 SSD module makers.
Chinese module makers show great potential; SSD controller chip makers continue to optimize their solutions
DRAMeXchange notes that Chinese module makers show great potential in the channel market, motivating SSD controller chip manufacturers to optimize their solutions in order to obtain orders from these module makers. According to DRAMeXchange, products in demand include master controller chips that fully support 64/72L 256/512Gb Flash and 64L QLC 1Tb Flash which may enter mass production in 4Q18. The product lines are expected to include SATA DRAMless as well as mid- and low-end PCIe G3 solutions.
DRAMeXchange notes that some leading module makers in China have extra specs requirements for gaming. SMI SM2258XT, Phison S11 and Marvell 88SS1120 used to be the mainstream controller chip solutions adopted by Chinese module factories in 2017. However, more competitive solutions have emerged in 2018, including Realtek RT5732DL, Maxiotek MAS0902, SAGE INIC6081 and ASolid AS2258. Particularly, ASolid aims to catch up with its major competitors, so the specs of AS2258 are almost the same as solutions by other leading module makers. This controller chip not only features SATAIII DRAMless, LDPC of Error Correction Code and Die RAID for better performance and data protection, but also supports 64/72L TLC 256Gb/512Gb Flash and 64L QLC 1Tb Flash. In addition, to meet the demand for gaming SSD, ASolid also provides the total solution of M.2 and 2.5-inch SSD, with programmable RGB-LED to realize different lighting patterns.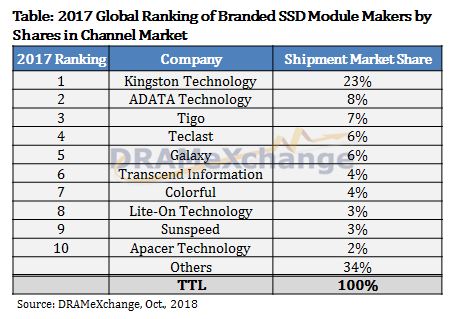 https://asolid-tek.com/wp-content/uploads/2022/09/170690001539326288.jpg
600
800
agent08
/wp-content/uploads/2022/06/ASolid-logo_for-MD-2.png
agent08
2018-10-15 11:00:02
2022-10-17 11:01:54
TrendForce Announces the Global Ranking of Branded SSD Module Makers for 2017; Kingston, ADATA, and Tigo Took Top 3 Positions